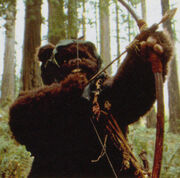 Tokkat is an Ewok that is featured in Star Wars Episode VI: Return of the Jedi. He lives in Bright Tree Village.
Even though he has brown fur in the movie, in his LEGO version his fur is black.
Ad blocker interference detected!
Wikia is a free-to-use site that makes money from advertising. We have a modified experience for viewers using ad blockers

Wikia is not accessible if you've made further modifications. Remove the custom ad blocker rule(s) and the page will load as expected.